Alle Bilder dieser Webseite, wenn nicht ausdrücklich ein anderer Ursprung angegeben ist, sind (c) Jil Bayer und urheberrechtlich geschützt und dürfen ohne meine Einwilligung nicht weiter verwendet werden! Coverbilder, der von mir rezensierten Exemplare sind mir vom Autor / Verlag oder per Amazon zur Verfügung gestellt und unterliegen nicht meinem Copyright. Die Bilder im Banner sind mir im Rahmen des Blogs von Webnode.com zur Verfügung gestellt.
Find me on:
Snapchat: chillyjily
Ihr wollt meinen Button in Euren Blog einbinden? Kein Problem: Einfach den Code unter dem Button kopieren und in euren Blog einbinden.
You want to grab my blogbutton? Just copy the link below and embed it to your blog.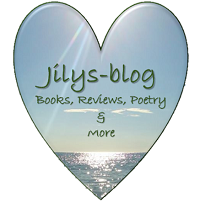 ---